Harvy Simkovits, President, Business Wisdom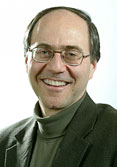 As a speaker, writer, consultant, educator and small business owner and manager, Harvy Simkovits, CMC has worked, nearly 20 years, with hundreds of business owners and their managers across many industries. Harvy has presented seminars and workshops at local and national business and professional organizations, including Inc. Conferences, Inc. World, Family Firm Institute, Smaller Business Association of New England, Center for Women and Enterprise, and Responsible Business Association.

Available on this web site, Harvy has published over 50 articles on the topics of Business Development, Company Management, Organizational Leadership and Learning, and Management Education. He is a regular contributor to a myriad of business and professional journals and newsletters, including Boston Business Journal and Mass High Tech. In addition, he publishes his own ezine "Business Wisdom" targeted to address the challenges of owner-managed companies and their top teams.

Previously, Harvy worked in industry both as the Director of Manufacturing for JHS Electronex, electronics manufacturing firm and family business. In addition, he has taught Managerial Skill Development at McGill University, and at Boston University Corporate Education Center.

Harvy holds an MS Degree in Organizational & Human Resource Development from American University, and both MS and BS Degrees in Computer Science and Engineering from MIT. He has also completed additional post-graduate education in General Business Administration at Harvard, Organization Systems Development and Individual Coaching/Counseling at the Gestalt Institutes of Cleveland and Montreal, as well as at the Executive Coaching Institute in Boston.

Harvy is a Certified Management Consultant (CMC) registered with The Institute of Management Consultants (IMC), a Professional Engineer, and is a member of Responsible Business Association (RBA), the Small Business Association of New England (SBANE), The National Speakers Association (NSA) and The Society of Professional Consultants (SPC). He has also been active on the local Boards and Committees of SBANE, RBA, IMC and NSA.

Harvy lives in Lexington, MA with his wife and children. They enjoy skiing, skating, tennis and bicycling together as a family.


---
Beth Davenport, Principal, Innovative Learning Solutions


Elizabeth (Beth) Davenport has 20 years of experience as a counselor, consultant and educator to profit and non-profit organizations. She designs and leads powerful educational seminars for a wide variety of organizations, and she has experience consulting to management regarding employee job performance issues. Her areas of specialty include: stress management, preventing burn-out, managing change, and dealing with challenging supervisory/employee issues. Ms. Davenport holds a MA Degree in Social Work from the University of Chicago. She is a Licensed Independent Clinical Social Worker (LICSW) and is also a Board Certified Diplomate (BCD). She is a member of the National Association of Social Workers and the Massachusetts Academy of Clinical Social Workers. She may be reached at .