Harvy Simkovits, President, Business Wisdom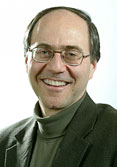 As a speaker, writer, consultant, educator and small business owner and manager, Harvy Simkovits, CMC has worked, nearly 20 years, with hundreds of business owners and their managers across many industries. Harvy has presented seminars and workshops at local and national business and professional organizations, including Inc. Conferences, Inc. World, Family Firm Institute, Smaller Business Association of New England, Center for Women and Enterprise, and Responsible Business Association.

Available on this web site, Harvy has published over 50 articles on the topics of Business Development, Company Management, Organizational Leadership and Learning, and Management Education. He is a regular contributor to a myriad of business and professional journals and newsletters, including Boston Business Journal and Mass High Tech. In addition, he publishes his own ezine "Business Wisdom" targeted to address the challenges of owner-managed companies and their top teams.

Previously, Harvy worked in industry both as the Director of Manufacturing for JHS Electronex, electronics manufacturing firm and family business. In addition, he has taught Managerial Skill Development at McGill University, and at Boston University Corporate Education Center.

Harvy holds an MS Degree in Organizational & Human Resource Development from American University, and both MS and BS Degrees in Computer Science and Engineering from MIT. He has also completed additional post-graduate education in General Business Administration at Harvard, Organization Systems Development and Individual Coaching/Counseling at the Gestalt Institutes of Cleveland and Montreal, as well as at the Executive Coaching Institute in Boston.

Harvy is a Certified Management Consultant (CMC) registered with The Institute of Management Consultants (IMC), a Professional Engineer, and is a member of Responsible Business Association (RBA), the Small Business Association of New England (SBANE), The National Speakers Association (NSA) and The Society of Professional Consultants (SPC). He has also been active on the local Boards and Committees of SBANE, RBA, IMC and NSA.

Harvy lives in Lexington, MA with his wife and children. They enjoy skiing, skating, tennis and bicycling together as a family.


---

Our Team of Business Wisdom Collaborators

Business Wisdom maintains a network of capable collaborators to provide your company with top expertise as diverse and complex business needs arise.

Steve Lishansky, President, Success Dynamics


Steve Lishansky is a recognized expert in leadership and executive development. Since 1992, his company has partnered with top corporate leaders and their organizations to produce Sustainable Results in Growth and Performance through customized executive coaching, consulting, keynote speeches, and learning. Prior to that he founded, owned and operated two fast-growing, multi-million dollar businesses. Steve is also the co-founder of the Executive Coaching Institute, the first executive-coach training school in the US. He can be reached at

Beth Davenport, Principal, Innovative Learning Solutions


Elizabeth (Beth) Davenport has 20 years of experience as a counselor, consultant and educator to profit and non-profit organizations. She designs and leads powerful educational seminars for a wide variety of organizations, and she has experience consulting to management regarding employee job performance issues. Her areas of specialty include: stress management, preventing burn-out, managing change, and dealing with challenging supervisory/employee issues. Ms. Davenport holds a MA Degree in Social Work from the University of Chicago. She is a Licensed Independent Clinical Social Worker (LICSW) and is also a Board Certified Diplomate (BCD). She is a member of the National Association of Social Workers and the Massachusetts Academy of Clinical Social Workers. She may be reached at .

David Utts


David Utts assists senior executives and emerging leaders in growing organizations to leverage their potential. He also works to build high performance teams and organizations through the design and delivery of "Just-In-Time", results-focused, executive programs. David's innovative work includes: mastering the dynamics of executive leadership, developing high-impact influence skills, creating fulfillment at work, and facilitating the professional development of future top leaders. Utilizing his skill, knowledge and experience as a successful executive coach, David is also one of the instructors and coach mentors at the Executive Coaching Institute. David has a Masters of Science in Organizational Development from American University and a BA in Psychology from the University of Maryland. In addition, David has completed post-graduate programs on leadership and coaching from Newfield Networks and New Ventures West. He is a member of the Executive Coaching Summit and received the designation of Master Certified Coach by the International Coach Federation (ICF).

Nancy Michaels, provider of creative marketing consulting services and seminars to independent business owners and entrepreneurs


In a three-year span, Nancy conducted more than 600 in-store, hour-long consumer seminars, "How To Be A Big Fish In Any Pond, Memorable Marketing On A Shoestring," on behalf of Staples, Inc. Nancy is the first recipient to win the Tom Peters WOW! Project Personified Award for her work at Staples. She is a co-author of "Off The Wall Marketing Ideas" (Adams Media, 2000) and has recently been featured in Success magazine, and The Wall Street Journal. Nancy was the small business nationally syndicated columnist for Scripps-Howard News Service and is also a regular contributor to business publications including Entrepreneur Magazine, My Business, and numerous others. Nancy has appeared on CNBC's "Minding Your Business," CNN/fn's, "For Entrepreneurs Only" and on PBS', "The Money Hunt." Nancy's consulting and speaking business, Impression Impact, is entering it's thirteenth year. During this time, she has worked with clients such as Fleet Bank, Staples, Closetec, among hundreds of entrepreneurs.