Complete Business Wisdom
Presentation
List

Move Beyond Fire Fighting: Building Sound Management Muscles for Your Growing Business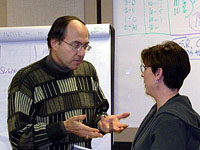 Often, business owners wear and juggle many hats when they start their business. However, as their business grows, they need to decide which hats to keep and which ones to give away for others to wear. For those owners to be able to let go of some hats, adequate management systems and practices need to be in place, otherwise the business owner will not be able to have good management controls in the different areas of their business. In this eye-opening session, learn about the five core management practices that business owners need to establish if they are to keep their business growing, prosperous and continuing on beyond themselves, with the help of their key people.
Sustain Your Company for the Future: Creating and Building a More Self-directed Top-Team

Do you have confidence in your key managers in operating your business effectively on your behalf? Does your top team have sufficient capability and commitment to do what's right for the company, its customers and employees? This presentation will take the mystery out of what's required having your top management become fully capable and fully contributing to your business. Learn about the characteristics that need to be in place before you establish greater self-direction in your top team. Also, learn how to implement the management supports that will ensure greater top-team self-sufficiency. The journey to greater top-team self-management can lead to your greater freedom and success as a business owner.
Persevere Through Rapid Organization Change: Building Greater Resiliency

Today's businesses are experiencing major change and upheaval like no other time before. How well is your company adjusting to what it takes to be successful in this new millenium? Is your management and staff learning the new ways of thinking, behaving and acting that will help your business survive and thrive in these tougher business times? This session will focus you on the role leadership plays to support your organization through times of turbulence and uncertainty. Come learn about how to get your people through the tough times and to focus their energy towards a brighter future. Also, learn what it takes to build greater stamina and resiliency for the long haul.