Complete Business Wisdom
Presentation
List

Building a Great Business

What makes a company "great"? What are you, as a business owner, doing to build a great organization? If you are not sure then this lively and interactive presentation will not only help you to effectively grow your business, but also build it toward greatness. You will learn about the six core qualities of a great business and what you can do, starting tomorrow, to instill those qualities within your leadership team and total organization.

Meet Today's Leadership Challenge: Getting Your People Fully Capable, Committed and Contributing – Quickly!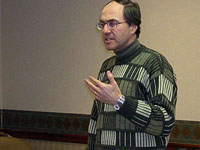 In these times of rapid marketplace change, there are greater demands for performance on your organization from both customers and employees. How do you keep your management and staff focused, motivated and productive through the turbulence and upheaval? This session will provide useful ideas and practical methods to obtain heightened performance and commitment from individuals, groups and the whole organization. Walk away with tools and approaches that you can apply immediately.
Lead Organization Learning: Creating Breakthrough Results and Continual Improvement

What role does "learning" play in your company's survival? Without learning, your business cannot create new products or services. Also, without learning, greater quality and efficiency cannot be effectively pursued in your operations. In this session, you will deeply understand how to inspire continual learning for the benefit of the business and it's future. Also, come to know what role you, as organization leader, must take in order to create a "culture of learning" within your company.
Develop the Right Leadership Stuff: Moving People's Performance to the Next Level

Is every key player in your company contributing to his or her full capability? What would it take for that to happen, and what would that mean for your business? Investing in your people's professional development can yield huge returns for your firm, if you know how, where and when to intervene. Through the knowledge gained from this session, you will know the five places you can explore and touch that will get every person you lead to strive for their utmost. Come and learn how to unleash the genie in everyone, so that they rise to their greatest levels of contribution to your business.
Leading with Power and Compassion through Transitionary Times

Recent years have been challenging for all of us living in America, as well as for the rest of the world. The continuing downturn in the economy, the tragic events of September 11/2001 and other national and international challenges have shaken us all. Those events have affected the heart and soul of who we are and what we need to be focusing on as a nation and economy. Within our own personal and professional world, how can we help ourselves, our colleagues and our organizations through the upsets and breakdown of recent years that mark the beginning of this transition time? How can we now build hope, spirit, trust and commitment towards a desired future? We must find ways to journey through the upheavals and uncertainties in our close and distant worlds, and stay focused and productive towards a worthwhile and uplifting vision. In this participative session, share, learn about, and experience the role that profound leadership can play to show us to a brighter future. We will examine what leadership can do — at any level of any organization (and in every individual's life) — in getting us through the major transitions in our personal and professional lives.